Translation missing: en.ymm_app.searchbox_title
360-Degree H8 Angel Eyes LED Headlight Bulbs 8000K Ice blue for BMW E90 E91 E60 E70
H8 LED Angel Eye Kit, beautiful 8000K Ice blue, 250% brighter than original halogen, CanBus Ready-compatible for 99.9% BMW system, long lifespan and plug and play installation. Just gives your vehicle a whole new luxury look without any modification.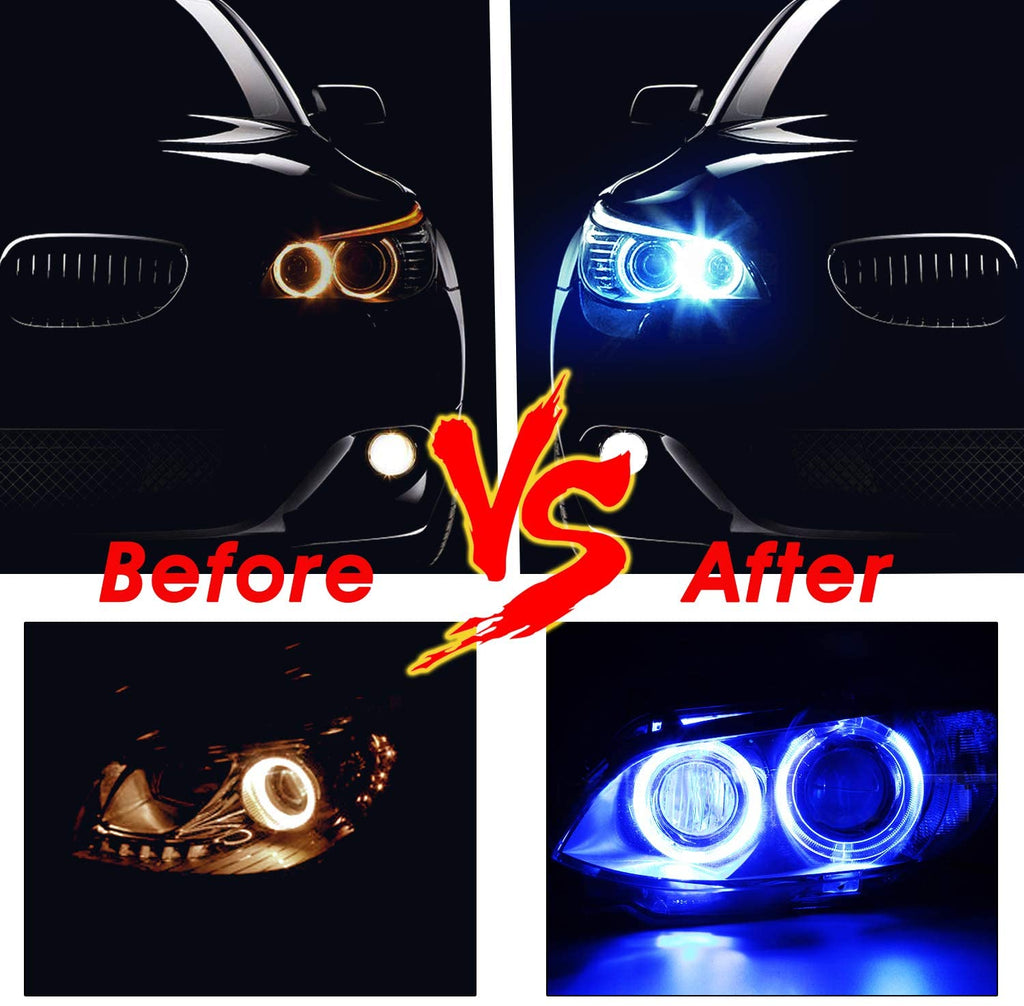 Compatible with BMW ONLY:
1-series E82 / E87 / E88 (128i, 135i) 2008–2013
3-series E90 E91 sedan Face lifted (328i, 328xi, 335d, 335i) 2009-2013
3-series E92 coupe (328i, 328xi, 335i) 2007-2013, E92 M3 2008-2013
3-series E93 convertible (328i, 335i) 2007-2013
5-series E60 sedan Face lifted (528i, 528xi, 535i, 535xi, 550i) 2008- 2013
5-series E61 touring Face lifted (535xi) 2008-2013
5-series E63 / E64 Face lifted (650i) 2008-2013
X-series E70 X5 2007-2013, E71 X6 2008-2013, E89 Z4 2009-2013
Featured:
4 side of 5W super bright CSP LED chips, 20W/Bulb, 40W/Pair. 1800LM 8000K Ice blue, 2.5 times brighter than the original halogen bulb. Beam Type: single beam, for high or low Beam,fog light and angel eyes.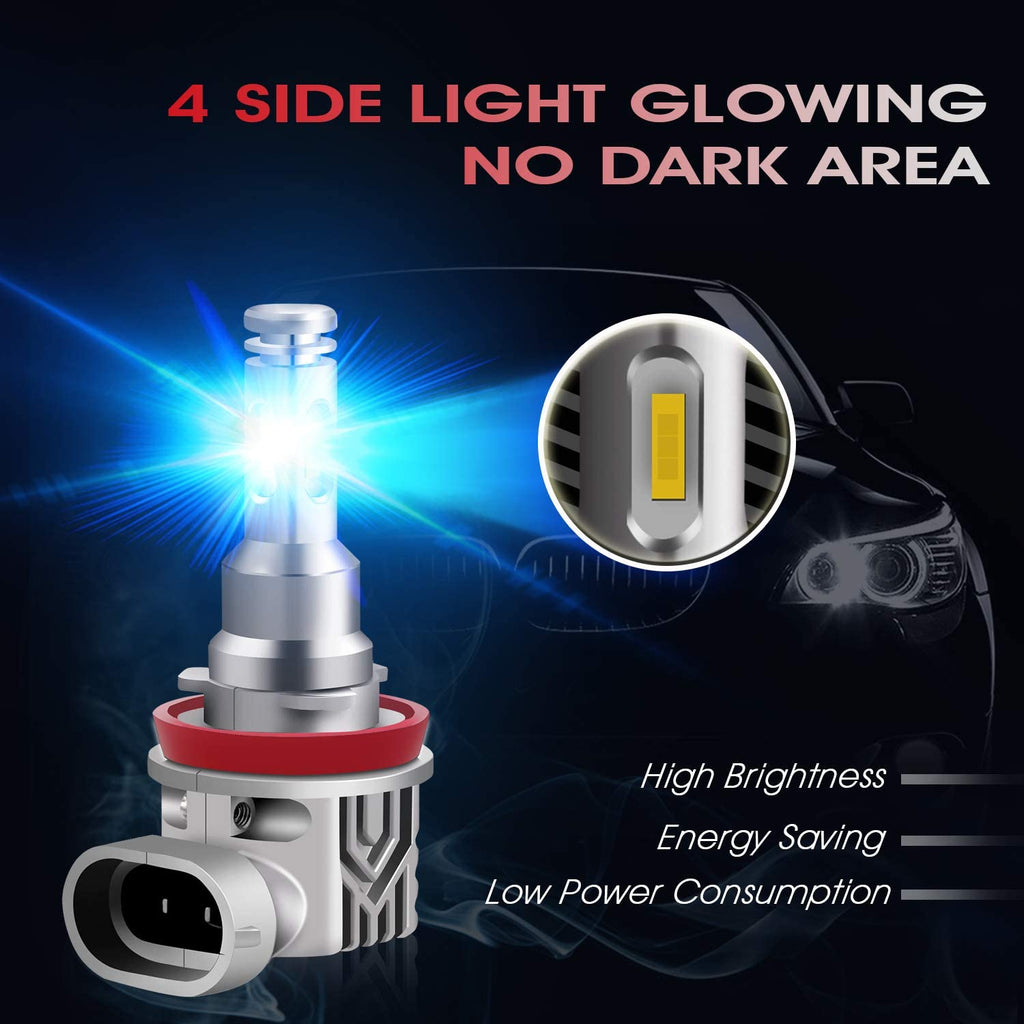 Excellent Heat Dissipation
Come with cold-pressed aluminum housing, aluminum heat dissipation ensures the secure temperature range. Protective thermal control for fast heat releasing to lasting long life. And great replacement for BWM yellow Halogen headlights: Upgrading your BMW yellow Angel Eyes light to extremely super bright ice blue.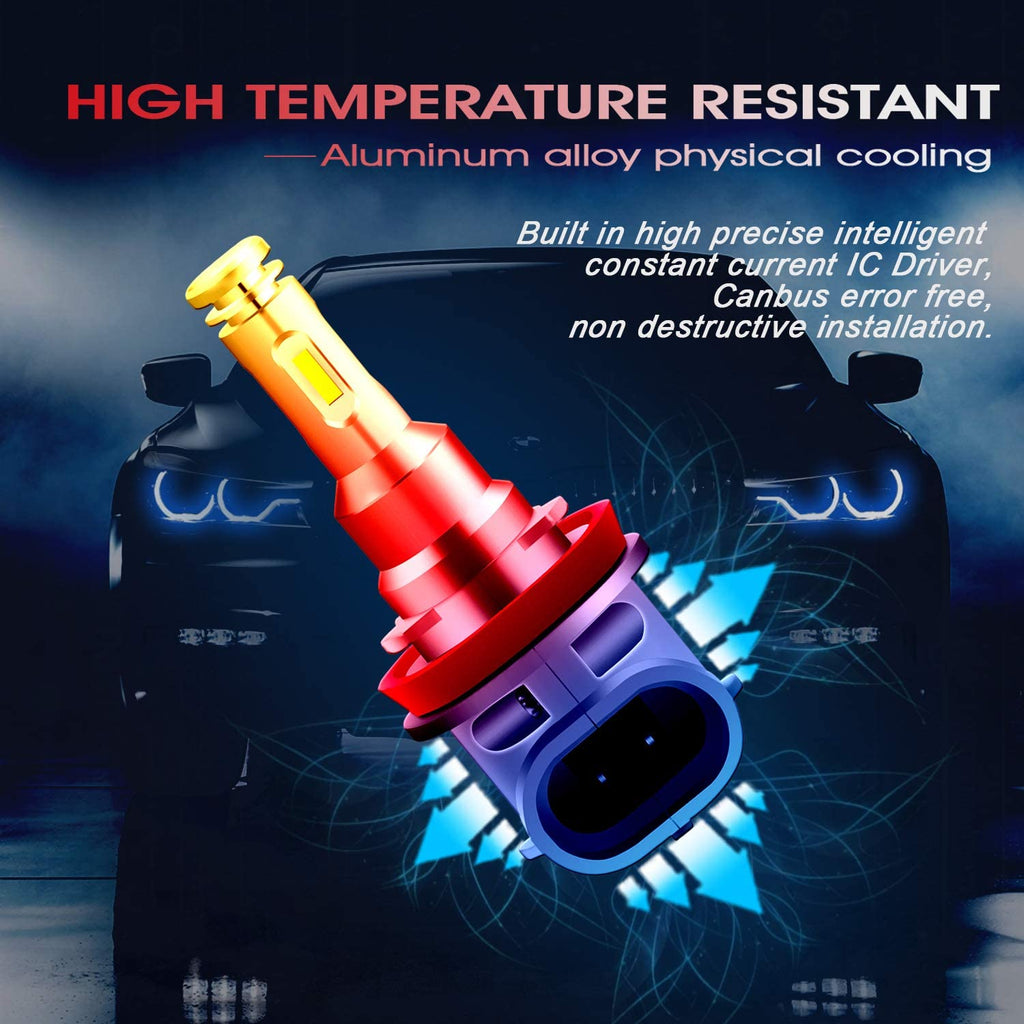 IP68 Waterproof & Easy Installation
Adapter to all weathers. The H8 bulbs are IP-68 rated, which refers to protection from dust and water, even a rain storm. Heat resistant, dust-proof and shock-proof, can be worked over 50,000 hrs. And 1:1 design, Easy installation without any modification. Quick Instant Start-Up Time.
Specifications:
Material: High density auto gradealuminum alloy
Light source: Customized super bright CSP chip
Light temperature: 8000K Ice blue
Luminous flux: 1800lm
Voltage: 12V-24V
Power: 40W/Pair
Light angle: 360°
Usage: Angel eyes, DRL light
Notes:
Products with electrical plugs are designed for use in the US. Outlets and voltage differ internationally and this product may require an adapter or converter for use in your destination.
Please check compatibility before purchasing..Package Includes:2pcs H8 Angel Eye Kit LED Headlight Bulbs (Ice blue)
Bright for the small Halo, not the large X5
I have a 2008 BMW X5 E70 and These were a very easy install, much easier than the OEM bulbs. These are indeed bright, shine nicely at night, but they do not fill in completely, they shine very bright on the smaller Halo light but not on the larger Halo light. You can see the larger one lit at night but it isn''t noticable during the day. However, I do like the brightness of the smaller Halo, but just wish it were illuminated throughout the entire light.